Forthcoming retreats and workshops:
Friday 26th – Sunday 28th June 2020
Earth and Sky Wild Yoga Retreat. Get close to nature with a weekend of yoga and nearly-wild camping at a secluded Snowdonia location. Enjoy powerful yoga with Claire Mace – and delicious food produced by local, sustainable hill farms. Switch your mobile phone off and experience the raw power of nature. Book here.
Monday 10th to Sunday 15th August 2020
Jambo 'Dragon' Truong Yoga Anatomy Continuing Education Training (CET). Join inspring and knowledgable senior yoga teacher Jambo to deepen your understanding of Yoga Anatomy in a fun and experiential way that will uplevel your yoga teaching.  This course is held at The Pathways Studio, Salford, Greater Manchester.  Book here.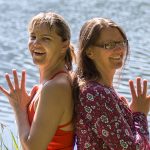 Friday 28th – Monday 31st August 2020
Be at Ease: a Forrest Yoga retreat with Sandra Robinson and Claire Mace. Join Sandra and Claire for 4 days and 3 nights at Trigonos, deepening your understanding of how to find ease amid the intensity of modern life. Enjoy comfortable accommodation, inspiring food and stunning scenery.  Booking is now open.