Seeking Santes Ffraid: the Light Returning
A Women's Retreat, Friday 9th – Sunday 11th February 2024
At Trigonos, Plas Baladeulyn, Nantlle, North Wales LL54 6BW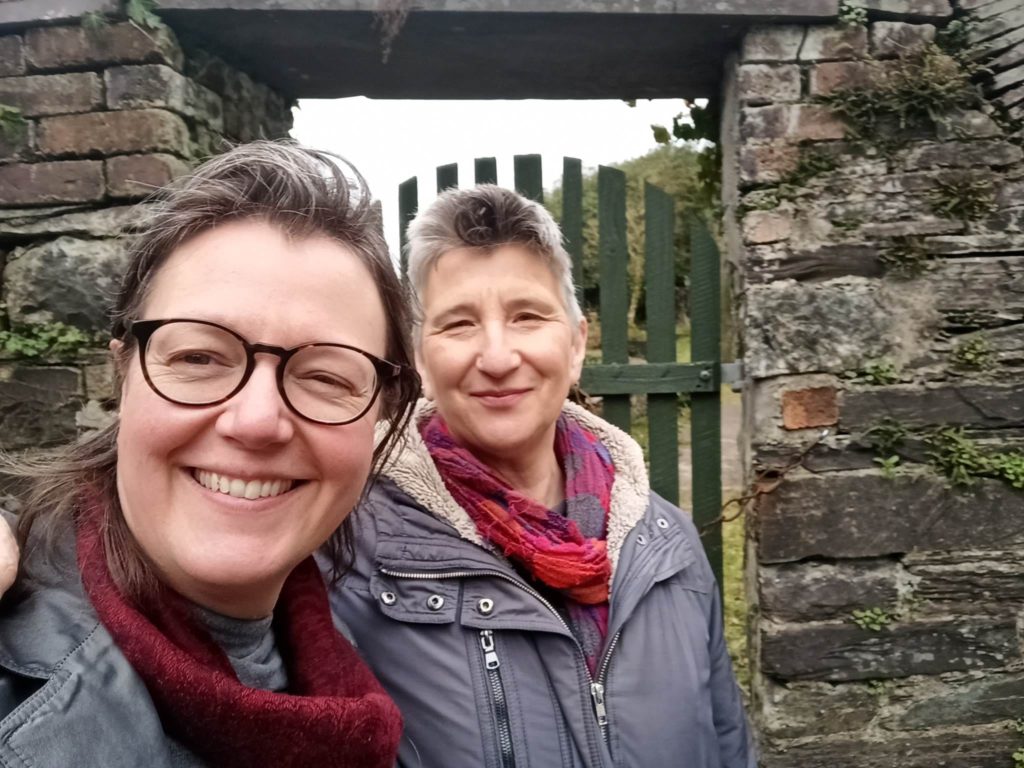 EXPLORE the legends of Ffraid, Bridget, Bride
CONNECT to the awakening times of early spring
DREAM your new beginnings for 2024
This year Cath and Claire's annual retreat weekend focusses on the goddess Bridget, known in the Welsh tradition as Santes Ffraid.
This time of year has long been associated with her: we will tune into her through stories, legends and myths.
Here's what Cath and Claire are planning for you (subject to the weather goddesses):
Storytelling: all the tales of Santes Ffraid, her mysteries and her magic
Adventures: to explore this ancient, mystical land
Movement: gentle yoga in the morning
Blessings: through fire and water ceremonies
Nature connection: hunt the snowdrops and green shoots of spring's dreaming
Nurturing: share healthy meals created by Trigonos' chefs
Co-creating: a shared evening of stories, songs and poems around the fire
Enlivening: take an optional dip in the lake (if you enjoy cold water!)
Everything is optional, if what you need to do is rest, you are very welcome to do so.
BOOKING
Either pay in full now, or pay a 50% deposit (rest due 1 month before the retreat).
All retreat activities, refreshments and meals are included, from dinner on the Friday to lunch on the Sunday.
Single ensuite room £445
Shared ensuite twin room £395 (shared with one other person)
Non-residential £295 (stay at home or in your own campervan)
ABOUT TRIGONOS
One of North Wales' foremost retreat venues, the clean and comfortable environment at Trigonos is conducive to giving you permission to deeply rest, relax and unwind.
The Trigonos site has a beautifully tranquil stream running through the grounds, with woodlands and lawns to explore, and situated on the edge of the Nantlle lake, surrounded by the epic splendour of the mountains of Eryri (Snowdonia).
Accommodation for this retreat will be in single, twin or double ensuite rooms, either in the historic Plas Baladeulyn house or in the newly renovated Dol Gwydion wing.
Trigonos' chefs are legendary: the vegetarian food is always inspiring and nourishing.
ABOUT CATH AND CLAIRE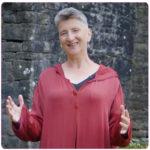 Cardiff Storyteller and Singer Cath Little is based in Cardiff. She has 'rough magic' in her voice, and in her words the gift of the story comes through.
She has a strong belief in the power of stories to connect us to one another, to the land, to the people who once lived here.
She tells traditional stories from her Irish-English heritage and her Welsh homeland, including re-imagining and retelling stories from The Mabinogi and Arthurian legends.
Cath helps run the Cardiff Storytelling Circle and curates their seasonal concerts, Tales for the Turning Year. She tells and listens to stories at Oasis, a Cardiff Charity which offers a warm Welsh welcome to refugees and asylum seekers.
Cath has tolds stories in schools, libraries, museums, castles, cafes, fields, and at festivals across Britain and Ireland. She is the author of Glamorgan Folk Tales for Children.
Yoga teacher, singer and storyteller Claire Mace is based in North Wales. She is deeply moved by the depth of this ancient landscape and the power of nature.
Her gift is in creating safe space for people to become more embodied, through movement, ritual and stories.
She also runs yoga classes, workshops, retreats and teacher trainings that guide students to practice where they are at, working at their edge compassionately, no matter what their age, weight or flexibility.
FREQUENTLY ASKED QUESTIONS
Who is this for? For women, and those who identify as women, who are drawn to learning more about the ancient goddesses whose presence infuses the deeper layers of this land.
How do I book? If there's spots available you can book via the orange button below. If we are out of spots and you want to join the waitlist in case more rooms become available, contact Claire via the contact page or call 07970 409 724.
Can I just pay a deposit now? Yes, you can pay a 50% deposit on the regular price. The remainder will be due 1 month before the retreat starts.
What's the address? Trigonos, Nantlle, Gwynedd, LL54 6BW.
How do I get there? If you are coming by public transport, the nearest train station is Bangor (Gwynedd) and we can put you in contact with a local taxi firm (advanced booking essential). If you are driving, there is ample free parking on site.
When should I arrive? You can check in from 4pm on the Friday, and there's an optional walk on offer at 5pm if the weather is amenable. We'll all gather to dine together at 7pm. The retreat will end after lunch on the Sunday at around 2pm.
What's included? Two nights accommodation and all meals from dinner on the Friday to lunch on the Sunday. All retreat activities with Cath and Claire.
How active is it? Will you be going on long walks? Subject to the weather, we will be exploring outdoors at times, though we aren't planning extended walks. If you have mobility challenges, let us know when booking so we can make sure you are included in as much of the outdoor adventures as suits you.
What's not included? Additional nights or meals at Trigonos. Transfers to and from Trigonos.
What if I can't come? We recommend you have travel insurance to cover you in case you have to cancel due to a positive Covid test, other illnesses, being asked to self-isolate, or being locked down, as we will be unable to refund you, though you could transfer your place to a friend. If we have to cancel we will refund you any deposits or money paid to us (minus Stripe fees for anything you paid by bank card).
What to bring?
Boots and coats for walking outdoors
An object that is sacred and personal to you to place on the altar
Your journal or paper and pen
(optional) Your yoga mat if you want to join in yoga sessions
(optional) A song, story or poem to share on Saturday night
(optional) Your swimming costume if you fancy a brave dip into the lake or sea
I have a food allergy, can you cater for me? The kitchen at Trigonos create delicious and healthy vegetarian meals. Please let us know when booking if you have any additional dietary requirements, allergies or issues we need to know about.
Can I book extra nights before or after the retreat? This will depend if Trigonos has spare capacity. Give them a call direct on 01286 882 388 to check.
Can I swim in the lake? Yes, but it would be at your own risk: neither Trigonos nor North Wales Retreats can accept liability if you go in the lake.