New Year's Eve Yoga Retreat: Step Forward In a Good Way
Friday 30th December 2022 – Sunday 1st January 2023
We are fully booked!
If you want to be on the waitlist in case anyone can't make it, send us a message.
What would New Year's Eve feel like if it were alcohol-free, TV-free and firework-free?
The end of the year is a good time to pause, go inward, and look at what you want to let go and what you want to cultivate.
This healing retreat features yoga sessions with experienced teacher Claire Mace to help you connect deeply to your body and your wisdom, to release old patterns, and bring in fresh energy.
There will be mixed-level, more active yoga practices on offer on the Friday afternoon at 5.30pm and Saturday and Sunday mornings at 10am.
On the Friday evening, after dinner, we'll enjoy some chanting and candlelit restorative yoga to really soothe and nourish our bodies, and to get us into the snooze zone.
On the Saturday evening, which is New Year's Eve, we will co-create a ceremony of becoming, as we dream in the New Year with meditations, guided writing, chanting, and sharing.
It's totally up to you as to whether you stay up til midnight and partake of a non-alcoholic elixir to toast the end of the year, or whether you fancy an early night!
There will also be free time in the afternoons to rest, relax, down-regulate, be in nature, and chat to others.
HEALING yoga practices at your level
DELICIOUS plant-based food to nourish your entire being
DREAM of what you wish to cultivate in 2023
ABOUT TRIGONOS
One of North Wales' foremost retreat venues, the clean and comfortable environment at Trigonos is conducive to giving you permission to deeply rest, relax and unwind.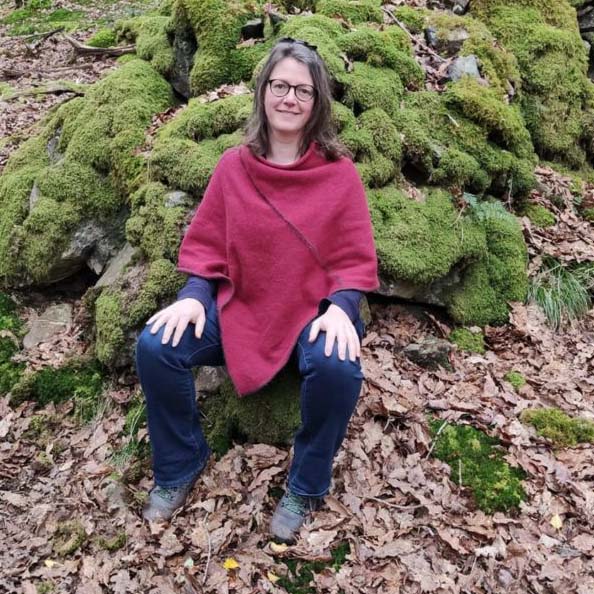 The Trigonos site has a beautifully tranquil stream running through the grounds, with woodlands and lawns to explore, and situated on the edge of the Nantlle lake, surrounded by the epic splendour of the mountains of Snowdonia.
Accommodation for this retreat will be in single, twin, or double ensuite rooms.
Trigonos' chefs are legendary: the vegetarian and vegan food is always inspiring and nourishing.
ABOUT CLAIRE
Yoga teacher, singer and storyteller Claire Mace is based in North Wales. She is deeply moved by the depth of this ancient landscape and the power of nature. Her gift is in creating safe space for students to become more embodied, and therefore better placed to move through the world. She runs yoga classes, workshops, retreats and teacher trainings that guide students to practice where they are at, working at their edge compassionately, no matter what their age, weight or flexibility.
FREQUENTLY ASKED QUESTIONS
How do I book? To secure your spot, book using the payment links at the top or bottom of the page.
How much is it? It is £445 to stay in a single ensuite room or £395 per person for a shared twin or double.
What's the address? Trigonos, Nantlle, Gwynedd, LL54 6BW.
How do I get there? If you are coming by public transport, the nearest train station is Bangor (Gwynedd) and we can put you in contact with a local taxi firm (advanced booking essential). If you are driving, there is ample free parking on site.
When should I arrive? You can check in from 4pm on the Friday. There will be a yoga session on offer 5.30pm-6.30pm and then we'll dine together at 7pm. The retreat will end after lunch on the Sunday at around 2pm.
What's included? Two nights accommodation and all meals from dinner on the Friday to lunch on the Sunday. All yoga classes with Claire, and other retreat activities.
What's not included? Additional nights or meals at Trigonos. Massage treatments, and transfers to and from Trigonos.
What if I can't come because of COVID? We recommend you have travel insurance to cover you in case you have to cancel due to a positive Covid test, as we will be unable to refund you.
What to bring? Ideally please bring your own yoga mat, a couple of yoga blocks, a yoga strap and two blankets. If you are coming by public transport we may be able to sort you out a set (sanitised before and afterwards) but please let us know at least two weeks in advance. If you'd like to go hiking, please bring good shoes or boots for walking.
Is this only for advanced yoga practitioners? No! Everyone is welcome. Claire will be offering multi-level practices to suit you, whether you are an advanced yogi or a beginner. She is very used to customising sessions, whatever your experience, fitness, mobility and yoga goals!
I have a food allergy, can you cater for me? The kitchen at Trigonos are very experienced at providing vegetarian or vegan food to meet your needs. Please let us know when booking if you have any allergies or restrictions we need to know about.
Can I book extra nights before or after the retreat? This will depend if Trigonos has spare capacity but drop us a line if you'd like us to find out.
Can I swim in the lake? Yes, but it would be at your own risk: neither Trigonos nor North Wales Retreats can accept liability if you go in the lake.
We are fully booked!
If you want to be on the waitlist in case anyone can't make it, send us a message.